Why Paganini Is Popular At Violin Competitions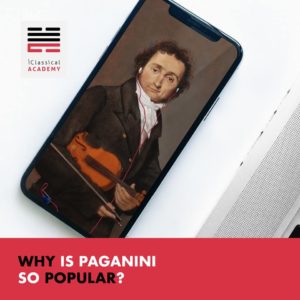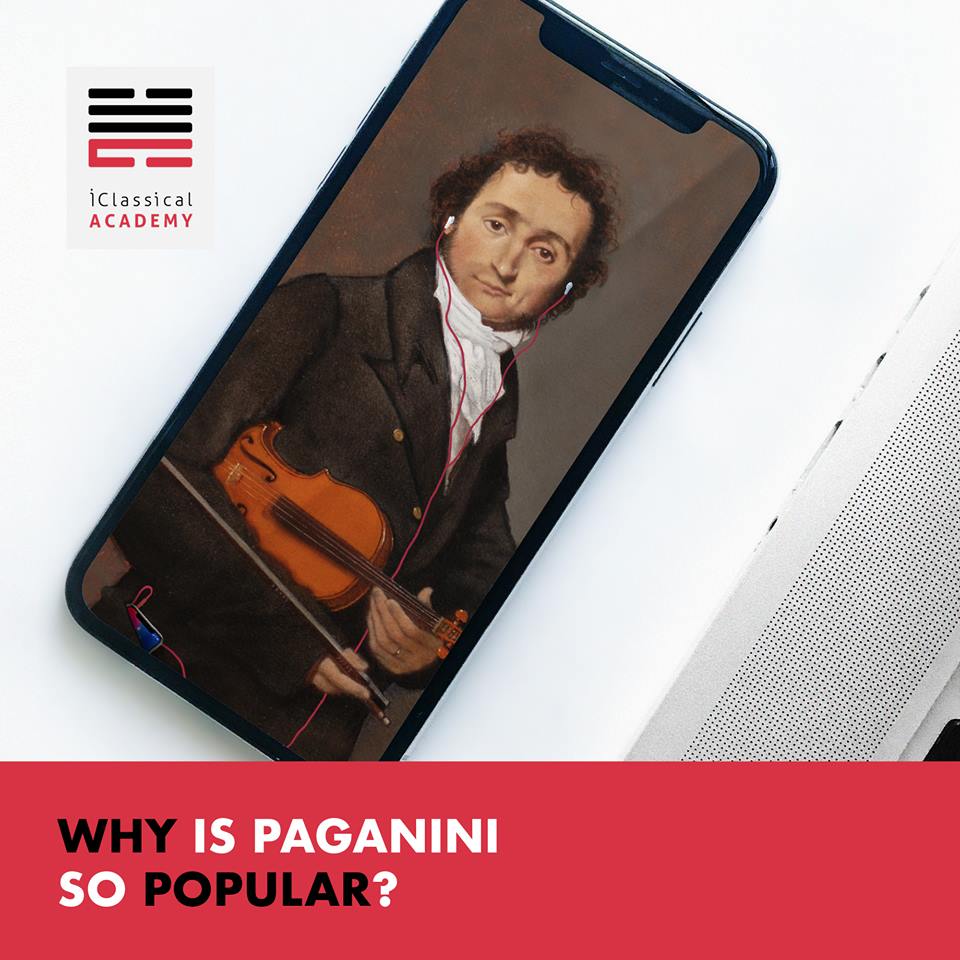 If you're a musician, then more likely than not, you've heard of Niccolò Paganini. For sure you've played it at a violin competition! Let's dive a little more into the complexity of his music. We start with a little bit of background of this eccentric composer. 
Moving from Mandolin to Violin
Having been born in Genoa, then the capital of the Republic of Genoa, Niccolò Paganini was the third of six children of Antonio and Teresa (née Bocciardo) Paganini. Paganini's father was an unsuccessful trader, so he supplemented his income by playing music on the mandolin. At age five, Paganini started learning the mandolin from his father and moved to the violin by age seven. His musical talents were quickly recognized, earning him numerous scholarships for violin lessons. 
Gioachino Rossini and Hector Berlioz
Paganini also became close friends with composers Gioachino Rossini and Hector Berlioz throughout his career. Rossini and Paganini met in Bologna in the summer of 1818. In January 1821, on his return from Naples, Paganini met Rossini again in Rome, just in time to become the substitute conductor for Rossini's opera Matilde di Shabran upon the sudden death of the original conductor. Paganini's efforts earned gratitude from Rossini. 
Paganini's Style 
Undoubtedly, famous composers Rossini and Berlioz greatly influenced Paganini's compositional style. You can find many passages in Paganini's work that are very similar to the two latter composers, who enormously impacted Paganini's career. Above is pictured Paganini's Violin Concerto No. 1, written in the year 1818. Classical music was on a tremendous, transformational stage then, and the light, colorful concerto style was trendy among virtuoso performers.
Paganini's violin concertos were some of the most well-attended public concerts during his career, although much of his life was spent freelancing around Europe.
Paganini's 24 Caprices
His music was always well-received, and through the generous benefactors that supported his career, he established a foothold as one of the greatest classical composers of all time. PAGANINI'S 24 CAPRICES Some of the most popular pieces of music asked for in modern violin competitions are Paganini's Caprices. Below, we've included a snippet from the original manuscript of his 24 Caprices for Solo Violin, Op.1: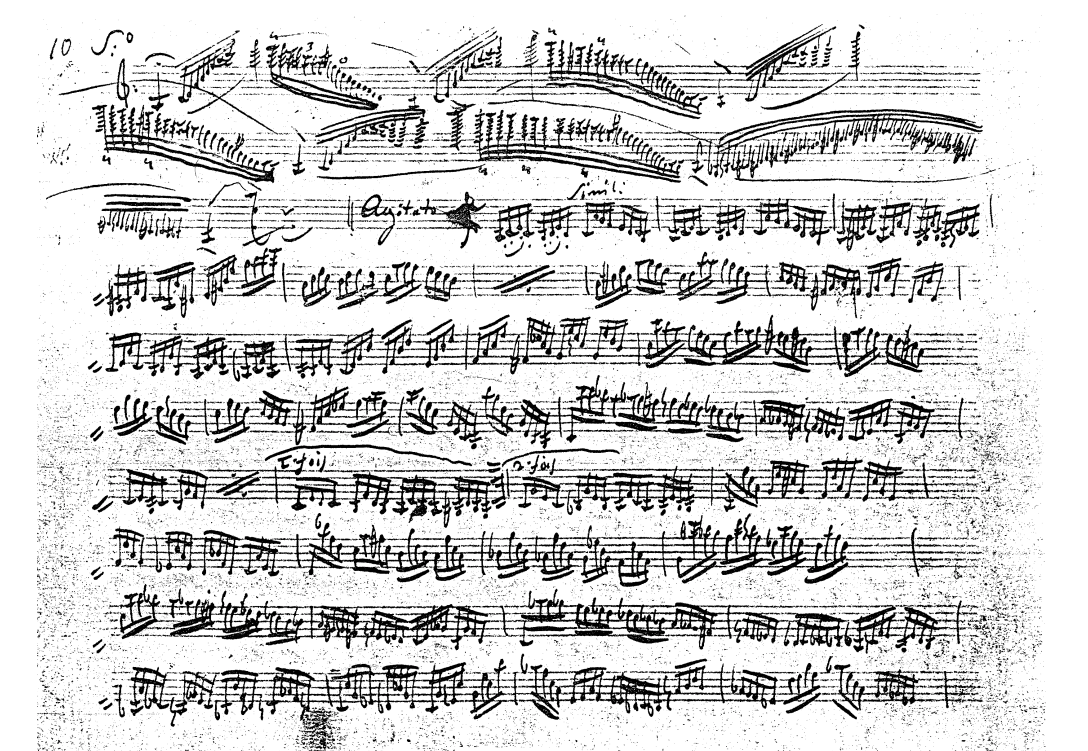 Notice that Paganini had every intention of writing virtuoso material and took complete freedom with challenging violinists at their instrument.
Why are his caprices so often asked for at violin competitions?
This then begs the question: Why are his caprices so often asked for at violin competitions? The answer is fairly simple: out of all of Paganini's beautiful compositions, there is a no more extensive collection of virtuoso pieces such as his 24 Caprices for Solo Violin. Each Caprice in and of itself has a distinct character apart from the others.
This caprices was probably not the first set of compositions at which Paganini tried his hand. Still, according to historians, it was certainly the most successful – thus, it is a popular choice in classical violin competitions. In short, if one is serious about the violin (or even the ambitious trumpet player who wants to tackle Paganini's Moto Perpetuo, Op. 11), then consider working on the 24 Caprices for Solo Violin, Op.1 for your next solo competition!
Pavel Berman and his Paganini 24 Caprices Online Course
According to Yehudi Menuhin, "These perennial companions to the violinist, together with the 6 Sonatas and Partitas of 1.5. Bach form the foundation of the violinist's manual". No conservatory student has not become acquainted, at least didactically, with this fundamental work! Exclusively for iClassical Academy, renowned violinist and pedagogue Pavel Berman created a wonderful online course teaching all 24 caprices. 
"A guideline to millions of violinists."
"My experience in teaching and performing Paganini brings me to the idea that, although every player has its features, there are many elements that are valid for us all. That's why I recorded this series, which could be a guideline to millions of violinists. There are general rules and details crucial to overcoming difficulties and a list of suggestions about how to study and practice that could make the difference for a performer's career, exactly as it was for me." Pavel Berman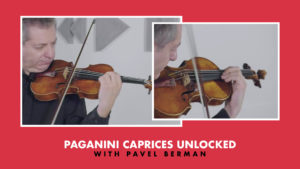 Pavel Berman studied with Isaac Stern and Dorothy Delay at the Juilliard School in New York. He attracted international attention when he won the First Prize and Gold Medal at the International Violin Competition of Indianapolis in 1990. Born in Moscow and the son of the famous pianist Lazar Berman, he started his studies at the Tchaikovsky Conservatory.
Pavel Berman teaches at the Conservatory of Lugano and the Academy Perosi in Biella, Italy. Berman is a frequently asked Jury member in major violin competitions worldwide. He performs on the Antonio Stradivari violin, Cremona 1702 'ex David Oistrach' lent to him by the Pro Canale Foundation, Milan. More about his COURSE
Why Paganini Is Popular At Violin Competitions
ultima modifica:
2018-12-03T12:16:08+00:00
da