Dr. Marcos Santos is a Brazilian Violinist and Pedagogue
Born in Bauru, Brazil, Santos spent most of his life close to home. He received his doctorate in violin performance at the University of Alabama. When he won a national violin competition, he earned a scholarship to the University of Southern Mississippi to pursue a master's degree in performance violin.
Dr. Santos has a degree in Education with a specialization in Psychopedagogy from the Higher Education Institute of Bauru, Advanced Violin from the Conservatoire of Tatuí, Master in Violin Performance and Pedagogy from the University of Southern Mississippi, and Doctor of Violin Performance and Music Theory from the University of Alabama. Marcos was a violin teacher at Unicamp-Campinas BRA and Instituto Core de Música in Joinville-SC in 2018 and 2019. He is the Co-founder of the Bravo Academia de Música and professor at the Dr. Carlos de Campos de Tatuí Dramatic and Musical Conservatory.
Researcher, musician, entrepreneur, 
and Co-Founder of the Bravo Academia de Música in Brazil
Marcos guides young musicians into professional life as young and independent artists.  As Co-Founder of the Bravo Academia de Música in São Paulo State – Brazil, along with his associate Dr. Paula Martins, Dr. Santos directs a music academy with over 20 teachers, 200 hundred students, and several side projects on social work by providing scholarships for underprivileged young musicians. As an entrepreneur, Dr. Santos leads seminars and masterclasses for young musicians who want to take the lead on their professional lives by managing their own careers as chamber musicians and teachers, giving them tools to be self-sufficient as artists and profitable as musicians.
The Bravo Academia de Música also has a music program online for Brazilians who live abroad and wants to reconnect with their culture through music. For more information, click here.
Performing life and Bach Double Concerto with Joshua Bell
Marcos has performed as a violinist in several professional orchestras/groups in Brazil and the United States, such as São Carlos Philharmonic, IRIS Orchestra USA, and the Memphis Symphony USA.
Among his performances, Bach's Double Concerto in D minor with IRIS Orchestra and the renowned violinist Joshua Bell stand out.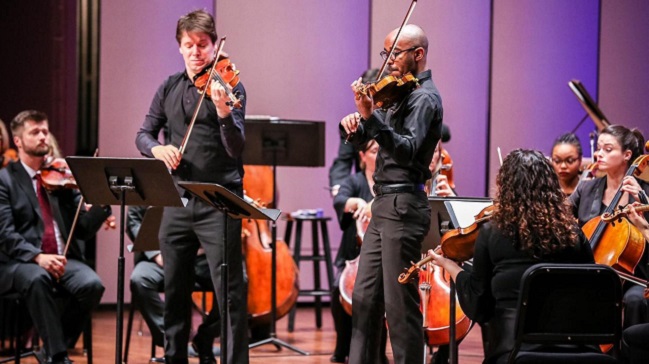 My Passion
"My passion is people and what music can do to connect us all!"
My Desire
"My Desire is that quality music education can be accessible to everybody regardless of social class."
My Music
"My Music is whatever moves me to a better state of spirit!"
musiMentor Violin Teacher Marcos Santos
ultima modifica:
2021-02-23T15:34:50+00:00
da