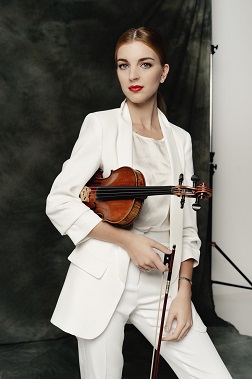 Ysaye Solo Sonatas
available end of May 2021
Ksenia Milas, Soloist & Performer, Educator & Violin Professor 
Ksenia Milas is a Russian violinist living in Italy. She graduated from the special college of "Rimsky-Korsakov" Conservatory in Saint Petersburg. From age 20, she entered the Maastricht Conservatoire and graduated with honor with Maestro Boris Belkin in 2012.
Among her teachers are world-renowned violinists and recognized pedagogues such as Salvatore Accardo, Eduard Grach, Sergei Kravchenko, Jan Repko, Zakhar Bron, Michaela Martin, Krzysztof Wegrzyn, and Oleksandr Semchuk.
Concert Soloist
Ksenia leads a busy concert activity both as a soloist with various orchestras and as a chamber music performer. Her early career began at the age of eight, when Ksenia debuted as a soloist with the State Philharmonic Orchestra of St. Petersburg, performing in the Mirror Hall of Beloselsky-Belozersky Palace. Kultura Magazine wrote: "Ksenia has enchanted the public non only for her charisma and astonishing virtuosity but also for her extraordinary talent and artistic sensibility far beyond."
CD Recording Ysaye Solo Sonatas
In 2017 she recorded the six Sonatas for Violin Solo Op.27 by Eugene Ysaÿe for "Anima Records" (Paris, France), a project supported by Sandro Cappelletto (La Stampa) and Tully Potter (The Strad), and other important musical critics. The CD received great reviews from famous magazines such as Classic Voice, Limelight Magazine Australia, AMADEUS, "Le Salon Musical," and "ARCHI-Magazine," to name but a few.
"…her way of playing reveals a naturalness and freshness absolutely uncommon among today's hyper-virtuous violinists."
Luca Segalla, ARCHI-Magazine
"…besides her superb technical control of the intonation and the eloquence of her bow flashes, the Six Sonatas are pure pleasure and listened in one breath." Cesare Fertonani, AMADEUS
Paganini's legendary violin "Sivori."
In September 2020, Ksenia recorded all Niccolò Paganini's 24 Caprices in Genova, together with 4 recently discovered caprices on Paganini's violin called "Sivori," part of Paganini's legendary Violin Collection and conserved together with "Il Cannone" at Tursi Palace in Genova.
Violin Professor 
Ksenia Milas is a violin professor at the Imola International Academy and teaches at the Scuola di Musica Fiesole to passion her musical knowledge of violin playing secrets & techniques to her numerous students.
My Passion
"To transmit pure emotions through sound and to create a "vibrant" world, a better one, a world in which words are secondary, and people can freely communicate by opening their hearts without any fear of not being understood. Seeing people during concerts experiencing every emotion sincerely makes you understand that the distance between a smile and a tear is just of few notes played from the heart."
My Desire
"To bring music closer to listeners and, above all, to inspire young people and upcoming generations; I would also love to see musicians amongst themselves more united, stronger and… creative, with many ideas and endless hope for our future.
Therefore, my today aims to motivate and teach young artists to believe in themselves, to discover bravely what they have inside, their natural talents, and to bring out their sincere passion; artists should not have any fear to open up their deepest weaknesses; it IS the courage that transforms us into profound, complete musicians, capable of communicating."
My Music
"What IS music for me? It is the air I breathe. It is always with me and vanished into thin air; music fills it with all the colors of Life!"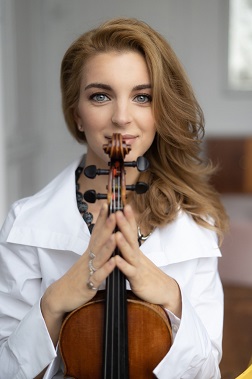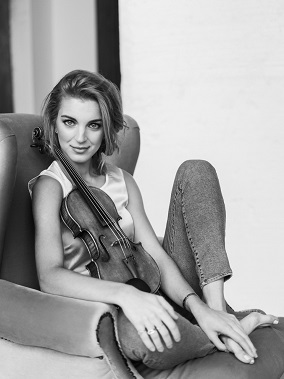 musiMentor Violin Teacher Ksenia Milas
ultima modifica:
2021-02-23T15:54:28+00:00
da