LISZT PRAELUDIUM NACH J.S. BACH, SCHLAFLOS!, EN REVE, BAGATELLE
CORNERSTONE LESSON LISZT An exhaustive masterclass about differences and similarities amongst four important Praeludium; some parts are interpreted in different ways and compared to each other. Master Teacher  Peter Frankl is a visiting Professor at the Yale School of Music and Honorary Professor of the Liszt Academy of Music. .A frequently asked Jury member at international competitions. Frankl studied at the Liszt Academy of Music in Budapest, with Professors Lajos Hernádi, Kodály and Weiner.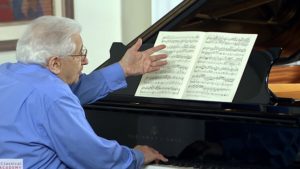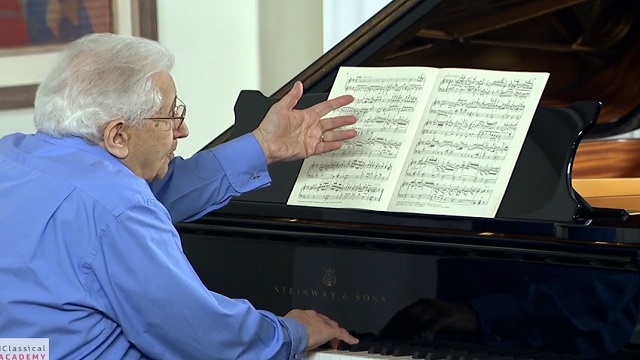 Professor Peter Frankl  
How to distribute the intensity in a passage which contains a long and persistent crescendo, including how to start and how to end. Master Teacher Peter Frankl and assistant Wouter Bergenhuizen.
About Peter Frankl
He is a passionate teacher with a lot of humour. He encourages and challenges young pianists to be versatile and to find their own and unique way of performing. About the "en reve" Praeludium, how to render the "dreamy" atmosphere by handling the sound without relenting the tempo. In his musical attitude, it is quite evident the deep study that he made of Liszt technique (who, as many knows, was an excellent performer). The particular techniques of Liszt, who relied on his thumbs for the melody, to let the other fingers free to play any "decoration", is not applicable for many pianists, and from here starts Frankl's attitude to adapt the fingering to the individual style of each pianist.
What to expect in the Masterclass
As we mentioned, Peter Frankl style is based on the research of the individual sound through the study of possible variations and different approaches to the piece. He applied this concept for himself during his long and successful career and used it in his teaching. Frankl's particular attitude can be taken for his students as an unmissable heritage that you can put into your musical luggage. Watch for example the demanding passage with a trill on the right hand and harmony on the left, all of that in a Pianissimo atmosphere which can be played in different ways.
<!-- [et_pb_line_break_holder] -->
Get your membership to see the full Masterclass and select your plan here
LISZT PRAELUDIUM NACH J.S. BACH, SCHLAFLOS!, EN REVE, BAGATELLE
ultima modifica:
2019-02-19T09:44:53+00:00
da