The best audio-video solution for distance learning for
players and singers
by Ubaldo Ponzio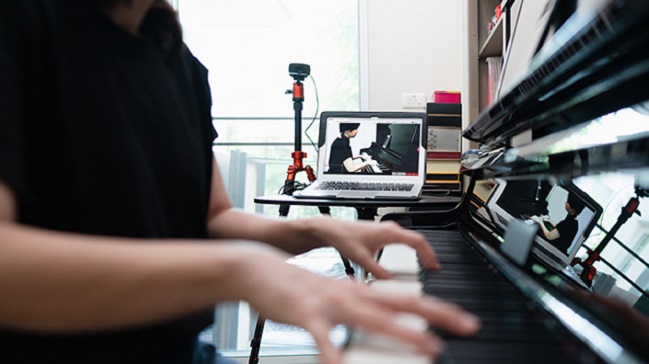 uwMeeting is an innovative online platform created to offer all music and singing teachers and students the possibility to do individual and group lessons from home, with a much higher audio quality than standard video conferencing platforms.
Private teachers can organize their lessons freely, and music institutions can organize courses and master classes while also managing listeners.
Thanks to the absence of audio filters and audio compressors, uwMeeting allows you to hear a faithful sound, allowing you to perceive even slight changes in timbre.

Both mono and stereo microphones can be used.

Disabling the automatic audio level control allows you to hear dynamic changes without compensation from the platform.
MAKE THE MOST OF YOUR CONNECTION
In case of poor quality connections, you can get great results thanks to the possibility of changing the resolution of your video and the number of frames per second.

uwMeeting allows you to choose 3 possible video resolutions (from 480x320px to 1280x720px) and 4 video frequencies (from 1 to 30 fps).

This allows you to transmit audio in the best possible quality.

The connection speed required can therefore vary in upload from a minimum of 0.2Mb/s to a maximum of 3.5Mb/s.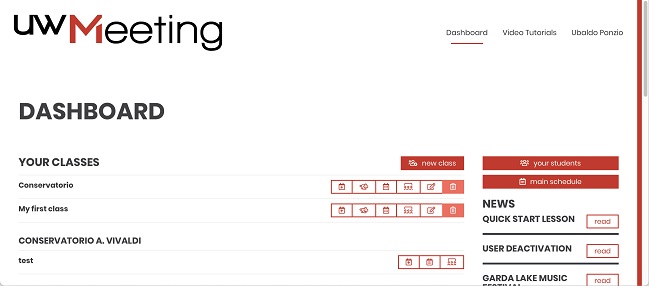 INDIVIDUAL AND GROUP LESSONS
Both individual and group lessons with two or more students can be organized.

In group lessons, a maximum of 20 students can be displayed on the monitor, and they can be invited to suspend their video signal without interrupting their presence in the lesson; they continue to follow the lesson's progress without disturbing or distracting their presence on the monitor.

In this way, it is possible to focus on just one student, inviting the others to "re-enter" when it is their turn or at the end of a lesson for a collective discussion of what has been heard.

Some features:
The maximum number of users who can participate in a lesson is 100.

The collective lesson is also helpful for having an assistant or translator available during the lesson.
Institutions can also manage listeners.

The listener is a user who participates passively in the lessons, without having the opportunity to interact with the active participants (teacher and student/s), not even with the text chat.

The listener can attend the lessons according to the logic that the secretariats may decide:
 
- attend only one lesson with a personal pass

- attend all the lessons of a given class

- attend all the lessons in progress. 
REQUIREMENTS
uwMeeting is a web application; therefore, you don't need to download an app to use it; you just need a browser, Chrome/Edge/Opera, and a device between smartphone, tablet, or computer.

As smartphones and tablets do not recognize any external microphones connected, they must use the device's own microphone even if its characteristics are potentially not good enough for listening.
MANAGEMENT
uwMeeting, in addition to the virtual classroom, provides a management system for administering users and lessons, offering various valuable tools for correctly using the organizational and didactic flow.
 uwMeeting has two separate management systems for private teachers and Conservatories, Academies, and Music Schools.
More features:
Private teachers can manage an unlimited number of students and organize them into groups/classes.
Conservatories, Academies, or Music Schools can now provide their teaching services with an excellent audio quality tool even when you don't have optimal internet connections.

The simplicity of management, ease of use, and the best audio quality are now possible.
 Management of faculty, student body, listeners, and organization of courses/classes by matching faculty and students quickly and easily.

Access to the lessons by administrators to give assistance and monitor the progress of the lessons.

Verification of the number of hours assigned to each class and verification of the time spent together by the teacher and his student, the inspector.

Data export in excel format.

Accurate and personalized management of the permissions and privileges of each class.
VIDEO TUTORIALS
Among the musicians who use uwMeeting for their lessons we can mention:

- Salvatore Accardo, soloist

- Enrico Dindo, soloist

- Giuseppe Ettorre, First solo double bass chair of the Orchestra and the Philharmonic of the Teatro alla Scala in Milan

- Enrico Fagone, First solo double bass chair of the Orchestra della Svizzera italiana

- Bruno Giuranna, soloist

- Fabrizio Meloni, First solo clarinet chair of the Orchestra and the Philharmonic of the Teatro alla Scala in Milan

- Antonio Meneses, soloist

- Klaidi Sahatci, First Concertmaster of Tonhalle Orchestra Zurich
Some of the institutions using uwMeeting: 
Imola International Academy Foundation "Incontri con il Maestro", Escuela Superior de Música Reina Sofía, Conservatory A. Vivaldi of Alessandria, TRT Philharmonic, Lorenzo Perosi Post-graduate Academy, Fossano Music Foundation, Garda Lake Music Festival.
uwMeeting is available in 9 languages: 

Italian, English, German, French, Spanish, Portuguese, Chinese, Japanese, and Russian.
uwMeeting provides several video tutorials to explain its operation, translated into 5 different languages.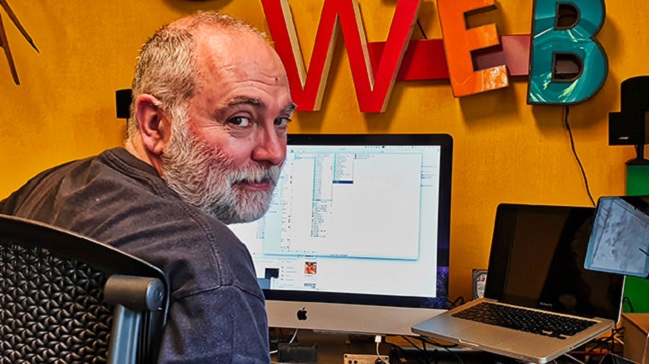 Ubaldo Ponzio, musician, web-designer, programmer
Ubaldo Ponzio has been a musician for 15 years as a double bassist working with many orchestras and has also been 1st double bass at the V. Bellini Theater in Catania, other 1st double bassist at OFT, and double bassist in the RAI Symphony Orchestra.
In 2001 he founded UbyWeb&Multimedia, services for website creation and implementation of nearly 250 projects.
In 2003 he inaugurated dbStrings, the portal for string players that, among other services, presents the world's most comprehensive list of auditions for orchestra positions for violin, viola, cello, and double bass.
In December 2020, he inaugurated uwMeeting.
uwMeeting Audio-Video Solution for Distance Learning
ultima modifica:
2022-06-30T14:01:55+00:00
da