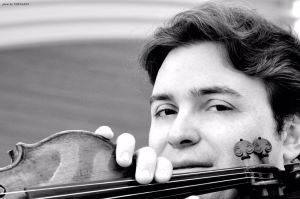 Kreutzer
Derivative Exercises
"One of the most outstanding Israeli violinists" - Isaac Stern
Born in 1975 in Russia to a family of musicians, Isaac Stern has called Sergey Ostrovsky "One of the most outstanding Israeli violinists." Sergey Ostrovsky has built an active and successful career as Aviv Quartet's first violinist, a soloist, violin, and chamber musician.
Professor of Violin HEMU Geneva
Sergey is a Professor of Violin at the Haute Ecole de Musique de Geneve and a first concertmaster of Orchestre de la Palau des les Arts de Comunidad Valenciana in Spain.
Founder of Aviv String Quartet
As a first violinist and a founder in 1996 of the Aviv String Quartet, Sergey won several top prizes at international competitions, as well as the Israeli Prize of Ministry of Culture, Ministry of Education of Germany, and Chamber Music Annual Prize, awarded by the National Lottery of Israel.
Sergey Ostrovsky
ultima modifica:
2017-10-12T13:08:53+00:00
da