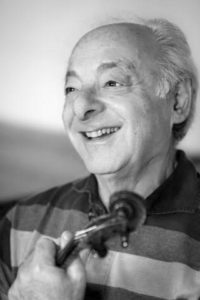 Professor Royal Academy of Music London
Recognized as one of the leading violinists of his generation Gyorgy Pauk was born in Budapest, Hungary, and received his musical education at the renowned Franz Liszt Academy. He retired from the podium, after over more than 5 decades, playing his farewell concert in Budapest with the Budapest Festival Orchestra under Ivan Fischer in 2008.
Gyorgy Pauk is now a professor at the Royal Academy of Music in London, where he conducts a " Performers Class " with selected young talents from all over the world. He regularly visits the US where he is giving master classes in Los Angeles, San Francisco, Oberlin College Ohio, and Juilliard School of Music in New York.
Professor Emeritus of the Franz Liszt Academy Budapest
His guest master classes included visits at Curtis, Peabody, Yale, Cleveland, Oberlin, Manhattan Schools, as well as in China, Japan and Israel, and all over Europe. Gyorgy Pauk has received several public honors in Britain and Hungary; also, he is Professor Emeritus of the Franz Liszt Academy in Budapest.
Gyorgy Pauk has been playing on his Massart Stradivarius of 1714, the Master's Golden Period.
Gyorgy Pauk
ultima modifica:
2017-10-12T13:05:22+00:00
da