SAINT SAENS RONDO CAPRICCIOSO ONLINE VIOLIN LESSON
CORNERSTONE LESSON VIOLIN VIRTUOSO REPERTOIRE
This composition is dedicated to the 18th-century violinist Pablo de Sarasate, and there's a very much audible Spanish influence in the flow of this romantic composition. It has an infallible effect on the audience, but it demands precision and technique.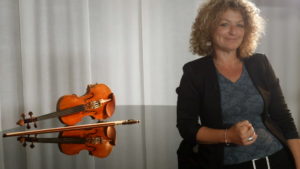 Masterclass recorded in March 2014©iClassical Academy
A very interesting example of interpretation through "call and response", and how to make the difference impressive to the audience, respecting the score and expressing your sound at the same time.
<!-- [et_pb_line_break_holder] --><!-- [et_pb_line_break_holder] -->
History of the piece
Saint-Saens was renown as a committed believer in the traditional rules of Romantic Classicism, which first of all demand clarity, and order, but this piece is an exception: in fact in the piece there are several different registers and types of harmony, which make it definitely different from the rest of the repertoire, or at least it belongs to the most brilliant and extrovert branch of Romanticism.
The composition was also influenced by the meeting that Saint-Saint had with Pablo de Sarasate, in 1862. The violinist was already a universally recognized star and was known for purity, sweetness and intense Vibrato.
So as the final result there is a quite melancholy introduction, Cantabile and with changing harmonies. But soon comes the Rondò, with a dogged accompaniment by the orchestra, and brilliant and whippy melody, with embellishments and shifting accents. and where a list of technical expedients are requested, bringing to the enthralling Coda, clearly thought to tear the applause from the audience.
The composition initially conceived to be the final movement of a more articulated piece, perhaps a concerto, but then its particular features brought to the conclusion that it deserved an autonomous diffusion.

What to expect in the Masterclass
Janna Gandelman is always very careful and precise in exposing the main topics and then developing them into smaller parts, with the description of all the dynamics, especially the Forte-Piano flow, accents, bowing, which will make your understanding very clear. But she's also open to possible different interpretations, so some parts of the masterclass are dedicated to variations in style and playing, which you can consider according to your personal inclinations.
Very often we play lifting our bow between notes when we shouldn't. This is a common mistake that brings you to a lacking and not so impressive sound. Also, watch the corrections from Professor Gandelman about the right hand "dancing".
<!-- [et_pb_line_break_holder] --><!-- [et_pb_line_break_holder] --><!-- [et_pb_line_break_holder] --><!-- [et_pb_line_break_holder] -->
Watch the full Masterclass here
Not a member yet?  Select your plan here
SAINT-SAENS RONDO CAPRICCIOSO ONINE VIOLIN LESSON
ultima modifica:
2019-02-04T13:03:57+00:00
da