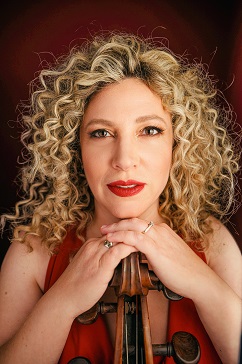 Popper High School
of Cello playing
INBAL MEGIDDO
Associate Professor and Head of Cello Studies at Victoria University of Wellington
Inbal Megiddo is Associate Professor and Head of Cello Studies at the New Zealand School of Music, Victoria University of Wellington, and has held faculty positions at the Yale School of Music and Oberlin Conservatory.
She is a Distinguished Guest Artist of the biannual International Melbourne Cello Festival, and the Asia Pacific Cello Congress and is the founder and director of the innovative Cellophonia International Festival in Wellington. In addition, Inbal was appointed a resource panelist for the Singapore School of the Arts and is a fellow of Grace Hopper College at Yale University.
Active concert schedule
An intensive concert schedule has brought her to Europe, Asia, and America. Among these is a recital at the inspiring Kennedy Center in Washington, D.C., and the famous Carnegie Hall in New York,
She made her Berlin debut with the Berlin Symphony with Maestro Lior Shambadal at the Philharmonie and a recital at the Staatsoper.
Furthermore, Inbal has had performances and radio broadcasts with the Jerusalem Symphony under the direction of Sergiu Comissiona, live recital broadcasts in several countries, including Germany, Spain, Ireland, New Zealand, Israel (Mishkenot Sha'ananim Music Center, and Eden Tamir Center in Jerusalem), and the USA (Chicago - the Dame Myra Hess Concert Series - and New York's Bob Sherman Show on WQXR).
She has performed and toured extensively with pianist Saleem Abboud.
Rostropovich and the fall of the Berlin Wall
Inbal received private lessons from Mstislav Rostropovich. She later performed as part of Maestro Rostropovich's cello ensemble to mark the tenth anniversary of the fall of the Berlin Wall.
A champion of contemporary compositions
A great lover of contemporary music, Inbal has recorded works by Douglas Lilburn and Michael Williams for the Atoll label, Laurence Sherr for Navona Records, a recording of Israeli composer Hanna Levy's works, and premiered the concerto of Jan Radzinski at the Lincoln Center in New York, as well as concertos and works by composers including Ezra Laderman, Ross Harris, David Brubeck, and Ofer Ben Amots.
She has also regularly recorded and performed with the Grammy Award-nominated group, The Yale Cellos.
Inclusive and Diversity
Inbal also promotes and performs the music of suppressed composers, helping to give a voice to women and minority musicians. She has upcoming recording releases of works by Clara Schumann and an album of Forbidden Composers, musicians silenced by the Nazis. The album includes premiere recordings of musical gems that have rarely, if ever, been performed.
Inbal is a founding member of the Te Koki Trio, whose debut recording of the Debussy Sonatas and Piano Trio was nominated for Best Classical Album in the 2017 New Zealand Music Awards.
Awards, Prizes and Recordings
Inbal Megiddo has received many awards and prizes, including first prizes at the William Waite competition, the Friends of Music competition, the Max Varon Fund, and the Aviezer Foundation.
Her recording of the Beethoven Cello Sonatas and Variations with pianist Jian Liu was released on Rattle Records to critical acclaim, and her recording of the Bach Cello Suites on the Atoll label is scheduled for release in 2022.
She performs on a fine Fiorini cello bought for her by generous donors and was awarded the use of a Stradivarius cello on loan by the Stradivari Society.
Education
Inbal Megiddo began her cello studies at two and gave her first performances a year later.
At the age of six, she was a recipient of the America Israel Cultural Foundation scholarship under the patronage of Isaac Stern and received the scholarship for several years.
She holds graduate and undergraduate degrees from Yale University, where she studied with and was assistant to Professor Aldo Parisot and collaborated with Erick Friedman, Jesse Levin, Ben Verdery, Peter Oundjian, Boris Berman, Peter Frankl, Claude Frank, and the Tokyo String Quartet.
Janos Starker, Heinrich Schiff and Daniel Barenboim
Among her other cello teachers was Prof. Uzi Wiesel at the University of Tel Aviv and Prof. Shmuel Magen at the Rubin Academy in Jerusalem.
Inbal performed in master classes with such artists as Janos Starker, Heinrich Schiff, Michel Strauss, Daniel Barenboim, Pinchas Zukerman, and Yuri Bashmet. In addition, she has participated in the Manchester, Banff, Rolandseck (Bonn), and West-Eastern Divan festivals as a soloist and chamber musician.
Inbal has held the position of principal and guest principal cellist with Orchestra Wellington, Bridgeport, Waterbury, and West-Eastern Divan Symphony Orchestras.
The Popper High School of Cello Playing
Through this course, you will understand the foundations of the cello technique: how to approach the instrument to achieve natural, tension-free playing. One does not need to be big or strong to play the cello, and there is no ideal hand size or shape. Instead, one needs to know the mechanics of how to use your body correctly.
Inbal will guide you through the 40 etudes, giving you tips on how to practice them and use them to elevate your playing to the next level.
On a Personal Note
"The High School of Cello Playing is one of the main study books for cellists. If studied correctly and methodically, it will help you master many virtuosic techniques encountered throughout the entire repertoire for the cello while simultaneously improving familiarity and comfort with the geography of the fingerboard.
The etudes are not organized in order of difficulty, making it challenging to know how to approach them. I will help you understand the pedagogical reason for each etude and how to use it for your individual needs. This will not only help you tackle the etudes but, more importantly, give you the tools you need to approach your repertoire on the road to becoming the best cellist you can be.
I look forward to having you join me on this journey!"
Inbal
musiMentor Teachers Inbal Megiddo Cello Popper
ultima modifica:
2023-03-13T13:35:34+00:00
da