The BACH Violin Solos Learning Method
The ultimate Bach Violin Solos Learning Method
A proven process to develop your skills
on different levels simultaneously.
A Winning Program
Private Lessons
45 Video Tutorials - 14 hours
Feedback on your own videos
Workbook
Certificate
A complete mechanism adapted to your needs and wishes. Six private sessions (three lessons with a renowned professor & three mentoring meetings), a watch-back option for your lessons, 45 video tutorials about Bach's Solo Violin Sonatas and Partitas with lifetime access, a workbook, and a certificate.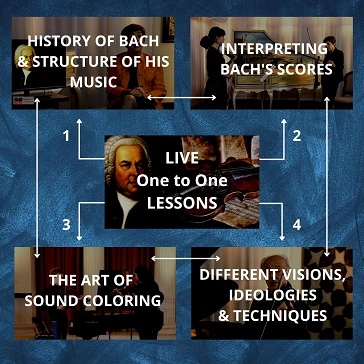 More than playing Bach, perform Bach!
You benefit from this program!
TEACHERS - A new approach to teaching your students, and mastering all the angles

PROFESSIONALS - Find new ideas and alternatives to confront, stand out

ADVANCED PLAYERS - Access a professional horizon, enlarge your culture
Seven Teachers at your fingertips!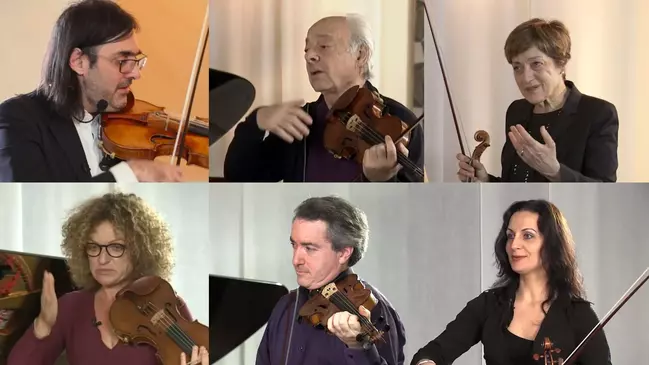 Chosen from the best worldwide
Leonidas Kavakos - World Acclaimed Performer
Georgy Pauk - Royal Academy of London
Miriam Fried - New England Conservatory
Janna Gandelman - Jerusalem Conservatory of Music
Hagai Shaham - Stony Brook University
Virginie Robilliard - Haute Ecole de Music Lausanne
...And, for the live One on One Lessons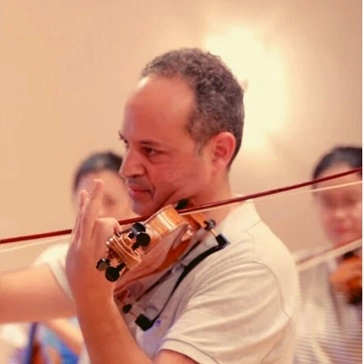 Professor Lihay Bendayan - former prodigy student of Isaac Stern, former Ilona Feher and Tibor Varga student, and Head of the Violin Class at the Jerusalem Academy of Music and Dance.
Topics Treated
How to approach | Bach's life | Bach's Scores | Conduction of several voices simultaneously in a polyphonic context | Tone/sound productions and the use of Vibrato according to the relevant aesthetics | Détaché and bow techniques | How traditional dances are translated to an instrumental performance | Complexity of formes and rhythms in Fugues and other musical structures | Taste versus Style, Complexity versus Simplicity - or how to combine them all | Chords and double stops techniques | Fugues | What audiences hear that you don't play | What audiences perceive that you don't say | Coloring the Sound | Defining yourself as a player.
All three sonatas, BWV 1001, 1003, 1005, and the Partitas BWV 1002, 1004, and 1006
are covered in the

Masterclasses

.
Learn, practice, and conquer your position in
Bach Violin Solos Performance
You will learn from seven Top World Violinists' Pedagogues. The lessons are on-demand streaming and live; your videos will be judged with customized advice.
Your private one-to-one lessons will be recorded and accessible for six months (only to you) on our dedicated video platform.
As a bonus, you will have a downloadable workbook that guides you easily through the content.
Our teacher will evaluate your improvement at the end of this program, and you will receive a Certificate.
Why the ultimate Bach learning method is proven successful
Every aspect of your learning interacts with the others. You will learn how to integrate many aspects into your knowledge and develop all of them at the same time
√ Conduction of several voices simultaneously in a polyphonic context

√ Tone Production
√ 
Using vibrato according to the relevant aesthetics
√
Knowing détaché and bow techniques
√
The full variety of forms and rhythms in Fugues and other musical structures
√ How to translate traditional dances into instrumental performances

√ Sound Coloring

√ Defining Yourself as a player
After you subscribe and purchase the Bach Method Program, you'll be asked to send us a video of your playing. Your instructor will examine the video, and we will send you a tailor-made watch & practice plan. 
Next, your first one-to-one lesson will be planned. Then, you will receive specific "homework," with masterclasses to watch & learn, plus indications on how to prepare for the second lesson, and so on. Finally, after the last lesson and your instructor's approval, you will be asked to provide your last video performance to be examined for your Certificate.
Exclusive iClassical Bach Program for

US$ 975
This program can be adapted to your need and situation.
Contact Meira for any further questions at

[email protected]

.
We also offer special packages for Teachers and Institutions.
We are at your disposal for any further information or demo that you might need. You can book a free video call, and we'll be happy to show you the program in detail.
Details about the workbook
Subscribe below, and we will send you an example extract of the Workbook containing some video excerpts.
How our programs are valued
"The masterclass collection of Bach solo violin sonatas and partitas is excellent: it contains everything about style, technique, history, and the composer himself." 
N.T. Bachelor student  
 "This is the most complete video series I've seen on the Bach Solo sonatas and partitas. A valuable collection of great music teachers who bring the student myriad insights and techniques. Highly recommended for anyone who wants to seriously profound the Bach Solo Violin repertoire!" 
G.H. Musicologist from Hamburg 
"The amazing thing is Professor Fried's ability to organize the Sonatas and Partitas into categories that span all of the works. It is so helpful to watch a lecture on all three Fugues as a whole while only working on one. Discovering the commonalities between the three sonatas helped my understanding and interpretation so much." 
E.S. Masters student at Sibelius Academy 
"A great advantage is that I can study the material I want at the time and when I need it. And always with great teachers, which is something fundamental to me."
F.R. Student Buenos Aires
"To be able to take such a great amount of knowledge related to SPECIFIC topics. iClassical offers a topic and gets deep into it. The student, this way, can be a spectator of the reasons to get to understand the "why.""
I.R. young violinist
Bach Solos Violin Learning Method Presentation – FINAL
ultima modifica:
2022-12-16T00:12:15+00:00
da